Divi Pixel Discounts & Coupon Codes
Find an active discount on the top rated plugin Divi Pixel. We bring exclusive coupon codes and promo codes that are validated. With Divi Pixel, you can customize your Divi website like never before. The built-in settings allow you to easily create an unforgettable user experience! Get your deal before it's too late.
Divi Pixel Discounts for June 2023
10% Discount On Divi Pixel
Divi Pixel is a powerful tool built for Divi. They've spent months crafting advanced settings and custom modules. It comes with hundreds of customization options, and 30 powerful Divi Builder custom modules which will incredibly extend your website's functionality!
Click the link below and use the coupon code DP10 to activate your discount.
Expired Divi Pixel discounts
30% Off Divi Pixel (Black Friday)
Purchase your license with Black Friday discounts on Divi Pixel with over 200 custom options and 40+ powerful Divi modules + beautiful layout packs that you actually want to use.  You can win 10 Free Lifetime Licenses and for all those who already own a copy of Divi Pixel, there will be  Exclusive Layout Packs available. Limited Lifetime License offer is available during Black Friday only!
The Black Friday 2022 discounts at Divi Pixel has expired.
20% Discount On Divi Pixel
Campaign active until March 16, 11:59PM GMT. Save 20% Off In Celebration Of Our 2 Year Anniversary! Divi Pixel adds hundreds of custom options and many powerful modules to your Divi website. Choose the right plan and start working smarter, not harder!
More Divi discounts from June 2023
10% Discount On Divi Supreme Pro 👉
Click the link below and use the promo code DIVIMUNDO to activate your discount for Divi Supreme Pro. We support Divi's mission through the development of Divi custom modules and Divi layouts that focus on beauty, subtle animations and visitor engagement.
Get your lifetime Divi subscription with this campaign link. No promo code or coupon is needed. Just use the link below. This is the best deal out there. Recommended and used by DiviMundo. Use one (1) Divi license for unlimited amount of websites.
Get your annual Divi subscription with this temporary campaign. No promo code or coupon is needed. Just use the link below. Use one (1) Divi license for unlimited amount of websites.
Add one extra year to your annual subscription or upgrade to a lifetime license. Use one (1) Divi license for unlimited amount of websites. Click the link below and login to activate your discount.
News
Read the latest news about Divi and WordPress in the blog.
Here are a few CSS snippets that lets you display and style as many Divi buttons you like side by side.
read more
Video tutorial: How to get your Divi discount and install Divi
This video is a part of our complete Divi tutorial with over 6 hours of free video tutorials. Enjoy!
How to use the Divi discounts
You do not need a discount code or coupon to activate your Divi theme discount. Just click on one of the links above and the price will be reduced. Step by step:
Click on one of the links above
Fill in your contact information (your email address will be your username)
Sign up with your credit card and submit
Login and download the latest version of the theme in the file Divi.zip
Log in to WordPress (/wp-admin)
Click Appearance > Theme in the WordPress menu
Upload Divi.zip
Click Activate theme
Go to Divi > Theme Settings > Updates and add your license key to access ongoing updates
Enjoy and create beautiful websites! 🙂
You can use your Divi license key for how many websites you like. There are no limitations.
Plugins for Divis
However, when buying plugins for Divi, you usually need a promo code or a discount coupon. In this case, this is stated in the list above. Start by copying the discount code and then clicking the button to proceed.
A unique way to build websites
Divi comes with more than 40 modules for text, images, video, counters, slideshows, FAQs, forms and much more. Easy to use and open for customizations. Divi creates 100% responsive design that always looks good on mobile devices. Preview your website on smartphones and tablets – on your computer screen.
With the unique concept with drag & drop and click & type, everyone can create beautiful web design without writing a single line of code. You must try it to believe it. Free live chat support is included, but you can often find the answer to your question yourself in an open Divi forum. Divi users are active and lots of users share their experiences and feedback on Facebook and in other communities.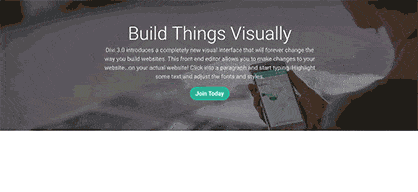 Create your own website
Explore our free course on how to create a stunning website with WordPress and Divi.
SiteGround Web Hosting for WordPress is recommended by WordPress.org. Be faster, safer and get 24/7 support via phone, chat and tickets. Use the link below to get 60% off.
Get a logotype, explainer video or animation from USD 5 from freelancers all over the world.
Get 50% discount on hosting and domains at the worlds biggest web hosting company GoDaddy.
Get the first year for free when you register web hosting at Surftown. One click install for WordPress and support is included.
About Divi Pixel
Divi Pixel comes with 32 custom modules that will enhance your Divi website significantly. Each module is well-thought-out and provides you with virtually unlimited customization options.
The plugin adds custom tabs to your Theme Customizer in which you can configure all the available custom settings that come with the plugin. All options are well-grouped and intuitive.
Enhance your Divi Theme with Custom Settings and New Modules. Start Creating Awesome Websites with Divi Pixel.
More discounts
Browse all our best June 2023 discounts for your favorite WordPress plugins and themes. Always tested and validated.
About Elegant Themes
Elegant Themes is the company that launched Divi back in 2008. They have also developed the popular theme Extra and plugins like Bloom and Monarch. Elegant Themes offer free live chat support for all members. Divi is a registered trademark of Elegant Themes, Inc. This website is not affiliated with nor endorsed by Elegant Themes.
About Divi
Divi is the worlds most popular premium theme and page builder for Wordpress. It's used by 881 346 web designers all over the world. With the drag & drop and click & type features, anyone can create a beautiful website and no time with a user-friendly what you see is what you get interface.
Divi comes both with a flexible theme and the world's most powerful page builder: The Divi Builder. Elegant Themes releases a new complete layout pack every week with images and top of the line templates – free for all members to use.