Divi Changelog with theme updates from Elegant Themes
Elegant Themes releases regular updates for the Divi theme. Sometimes there are minor bug fixes, sometimes there are improvements and every now and then we get awesome new features. Here's the updated changelog and release notes for Divi.
Login to your WordPress dashboard and go to Appearance > Themes and click Theme Details to see your current Divi version. If there is a new version available, you can click "Update now". However, it's wise to wait a week or two before installing a major update to avoid bugs.
Divi Changelog December 2021
Add one extra year to your annual subscription or upgrade to a lifetime license. Use one (1) Divi license for unlimited amount of websites. Click the link below and login to activate your discount.
Get your Divi subscription with this new campaign. No promo code or coupon is needed. Just use the link below. Use one (1) Divi license for unlimited amount of websites.
News
Read the latest news about Divi and WordPress in the blog.
Working on a One Pager design or just want to keep it short and sweet? Hiding the footer in Divi is easy.
read more
A unique way to build websites
Divi comes with more than 40 modules for text, images, video, counters, slideshows, FAQs, forms and much more. Easy to use and open for customizations. Divi creates 100% responsive design that always looks good on mobile devices. Preview your website on smartphones and tablets – on your computer screen.
With the unique concept with drag & drop and click & type, everyone can create beautiful web design without writing a single line of code. You must try it to believe it. Free live chat support is included, but you can often find the answer to your question yourself in an open Divi forum. Divi users are active and lots of users share their experiences and feedback on Facebook and in other communities.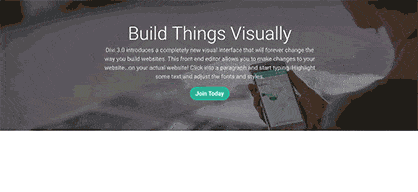 Create your own website
Explore our free course on how to create a stunning website with WordPress and Divi.