Discount: 20% Off On Divi – The Best WordPress Theme On The Market
Find all available discounts, offers and campaigns for the Divi theme for WordPress. All discounts are tested and validated January 2019. You'll find offers from Elegant Themes regardless if you are purchasing Divi for the first time or if you want to upgrade or renew your present Divi account. You can also find discounts for divi plugins and child themes from other vendors. Get your exclusive 20% discount now.
Discounts for January 2019
Get your annual Divi subscription with this temporary campaign. No discount code or coupon is needed. Just use the link below. Use one (1) Divi license for unlimited amount of websites.
Get the most value for your money. Lifetime updates and support is included. Use one (1) Divi license for unlimited amount of websites.
Add one extra year to your annual subscription or upgrade to a lifetime license. Use one (1) Divi license for unlimited amount of websites. 
How to use the Divi discounts
You do not need a discount code or coupon to activate your Divi theme discount. Just click on one of the links above and the price will be reduced. Step by step:
Click on one of the links above
Fill in your contact information (your email address will be your username)
Sign up with your credit card and submit
Login and download the latest version of the theme in the file Divi.zip
Log in to WordPress (/wp-admin)
Click Appearance > Theme in the WordPress menu
Upload Divi.zip
Click Activate theme
Go to Divi > Theme Settings > Updates and add your license key to access ongoing updates
Enjoy and create beautiful websites! 🙂
You can use your Divi license key for how many websites you like. There are no limitations. 
Plugins for Divis
However, when buying plugins for Divi, you usually need a discount code. In this case, this is stated in the list above. Start by copying the discount code and then clicking the button to proceed.
A unique way to build websites
Divi comes with more than 40 modules for text, images, video, counters, slideshows, FAQs, forms and much more. Easy to use and open for customizations. Divi creates 100% responsive design that always looks good on mobile devices. Preview your website on smartphones and tablets – on your computer screen.
With the unique concept with drag & drop and click & type, everyone can create beautiful web design without writing a single line of code. You must try it to believe it. Free live chat support is included, but you can often find the answer to your question yourself in an open Divi forum. Divi users are active and lots of users share their experiences and feedback on Facebook and in other communities.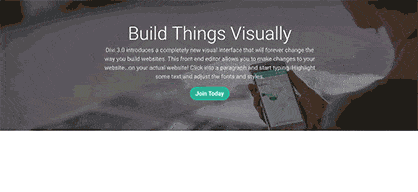 Get 50% discount on hosting and domains at the worlds biggest web hosting company GoDaddy.
 Get a logotype, explainer video or animation from USD 5 from freelancers all over the world.
Get the first year for free when you register web hosting at Surftown. One click install for WordPress and support is included.
News
Read the latest news about Divi and WordPress in the blog.
The Divis Bottom Bar below the Wordpress footer fits perfect for Copyright © information. Create an automatic feature that always displays the current year.
read more
Expired Discounts For Divi
Get popular Divi plugins like Divi Switch, Page Builder Everywhere and Divi Icon Party. Browse premium Divi Child Themes and online courses. Click the link above and use the discount code MCHNY2018 in the checkout.
Up to 60% Off at B3 Multimedia
Get pup to 60% off on popular plugins like Divi Toolbox, Divi Flipcards and Divi Icons PRO + premium child themes and bundles. Use the link below and the campaign code: CNY2018
20% Off Divi Life All Access Pass
Divi Life All Access Pass is a membership that gives you unlimited access to plugins like Divi Overlays, Divi Bars och Divi Mega Pro. You also get access to exclusive Divi Layout Packs. Choose between annual subscription or a life-time account. Use the discount code: ALLACCESSLAUNCH
25% Off Everything – Black Friday All Weekend!
Don't miss the biggest Divi discount from Elegant Themes – ever! Great offers on annual subscriptions, life-time subscriptions, renewals and upgrades + thousands of prizes. You can win a brand new iMac Pro, worth USD 5 000 and a bunch of premium plugins and child themes. Just use the link below (no campaign code needed).
Get premium Divi plugins like Divi Toolbox and much more at Divi Lover. During the Black Friday Week, you can also win prizes worth € 8,000 and get 60% off bundles.
Black Friday: 37% Discount On Divi Space
Divi Space offers premium plugins like Page Builder Everywhere and Divi Switch + Divi courses and Child Themes. Use the link below + the discount code BLACKFRIDAY2018
Black Friday: 30% Discount On Divi Life
Divi Life offers some of the most popular Divi plugins like Divi Bars, Divi Overlays and Divi Mega + premium child themes and bundles. Get 30% off everything this weekend. 
20% Off Everything At Divi Lover
Divi Lover provides some of the best Divi Child Themes and Divi Plugins on the market, for example the brand new plugin Divi Toolbox. Get 20% off with discount code: FALL20
15% Off Divi Overlays (plugin)
Create beautiful overlays and lightbox popups with Divi.
10% Off The Divi Bars Plugin from Divi Life
20% Off Divi – Elegant Themes 10 Years Anniversary